I have a confession to make: I actually wrote this blog post before I had manifested my car. Writing this post was actually part of my manifestation process.
And yes, I did manifest my dream car!
I've seen YouTube videos where people talked about this, and basically, they decided on the car they wanted, went to the dealer, got a loan or paid cash, and got their car. And that's great. And yes, in a sense that is manifesting… Because we manifest everything in our lives – what we want as well as what we don't want. But really, I'd call that "buying a new car" more than "manifesting a new car."
Conscious manifesting is creating with intention. Conscious manifesting is deciding on what you want, focusing your energy and intention on what you want to create, and then taking action to make it happen.
How did this all start?

Actually, I guess this all started last year. I had been seeing Toyota Highlanders frequently, and really liked the look of the car.
After seeing Highlanders in parking lots for months, I decided to go to my local Toyota dealer and check it out. When I actually saw it up close and personal, I realized that is was way too big for me.
But then I saw it… my dream car.
There was a Toyota Camry SE. It was gorgeous – inside and out. I knew that I wanted this to be my next car. (My current car was a 1997 Camry LE, so I already loved Camrys.) I also knew that I wasn't in the financial position to buy the car at the time, so I decided to manifest it.
I brought a sales brochure home (not an easy feat because they don't really print many of them anymore. lol), and I cut out a photo of the car and put it on my wall so I'd see it every day.
Then in January, I made a 2020 vision board and printed out a photo of my car (in the color I wanted) that I found online to put on my board.
I'd been looking at it all year long. But it's been a year, right? I think it's been difficult for most people. Doing healing work and working with the Law of Attraction doesn't preclude me from experiencing many of the same challenges that many others have had this year. I have gone through emotional stuff this year just like most people in the world.
As fall approached, I would look at the photo of my car on my vision board, and realize that 2020 was almost over. Was I going to manifest my car this year?

Be careful what you wish for… kind of

In October, I took my car to Valvoline for an oil change. I'd gone there for years, primarily because I like that it's a drive-through and is very convenient.
This time was different. One man waved me into the oil change bay, asked me a couple of questions and then looked under my hood.
Then suddenly this other guy came over, and I got really bad vibes. And in all honesty, I do wish I had listened to my intuition.
My gut told me to get out of there. They hadn't done anything at that point except look under the hood and check the oil level.
But I didn't listen. I overrode my intuition with logic: "It will be fine. Just let them do it, and get out of here. What can happen, it's only an oil change? They've done it a dozen times before."
Long story short: They destroyed my engine.
They overfilled the engine with oil – a lot. I didn't find out until the next day when I went to drive my car.
And they refused to accept any responsibility or pay for any damages. So this left me with no means of transportation, save a rental car.
When I found out that the engine needed to be replaced in my 23 year old car, I had the thought that maybe I had created this situation as a way of manifesting the car I wanted. But boy, that sure is the hard way! (Learn from my mistakes, and don't do the same thing.)
Interesting side note: As I was searching photos on my phone the other day, I happened to see the photos that I had taken of the Camry when I went to the Toyota dealership last year. It turns out that it was exactly a year to the day after I was at the dealership, that I went to Valvoline and they destroyed my engine. Coincidence? Divine intervention? Law of Attraction? I don't know. (Insert Twilight Zone theme here. lol)
Enter Manifestation Mode

I knew I had to do something.
Since my car was undrivable, I needed to get a rental. I asked for a Corolla because I wanted the cheapest rental I could get, but only a Camry was available.
This ended up being a really good thing because I got to experience driving my dream car every day.
Then I got really specific about what I wanted. I looked on Toyota's website where they have a "build your car" feature. I went through all of the options and color choices, and designed the car I wanted.
This gave me the clarity about what I wanted my car to look like and which features were really important to me.
Manifestation Tip: This is a vital step in the manifestation process. You can always be open to "this or something better." But you need a starting point. Spirit needs a starting point. What do you really want? Get specific.
Then I started calling dealers. It turns out that the color I wanted was pretty rare. None of the dealers had the model and color with the features I wanted. And I knew the car I wanted, and I wasn't going to settle.
Amazingly, after about a week, my local dealer "happened" to get in the exact car I wanted, except for a couple of small things that could be purchased, like floor mats.
So I scheduled an appointment and saw my car! I took it for a test drive. As I was driving it, I felt it was my car and the excitement of having this brand new car. Even though I had been driving the rental, it was different to drive this car because I knew this could be my car.
Manifestation Tip:
Experiencing what you want as being true for you in the present is another really important step in manifesting. Our emotions are what create our experiences.
While our thoughts do manifest, it's primarily because our thoughts determine our emotions. And our emotions are what attract to us experiences that are a vibrational match.
When I was at the dealer, I took some photos of the car and made one of them the wallpaper on my phone. So every time I used my phone, I saw my beautiful car!
You want to keep your desire top of mind – that is really the idea behind using a vision board. It's constantly reminding your subconscious mind that you're manifesting your desire.
Even when I wasn't driving, I would think about my car. I would think about all the features that I loved in it. Cars have changed a lot in 23 years. lol So there were a lot of things for me to adjust to – that I ended up loving. I don't want to bore you with the list, but I would frequently think about how much I loved this or that about the car, and how it felt using those things. So cool!
I wanted to be sure I was getting a good price, so I went to another dealership. While they didn't have the car I wanted, they actually found the exact car – with the couple of added things I wanted – only an hour away.
So now I was looking at my exact car. MY CAR.
It was sitting there just waiting for me to claim it.
The only thing holding me back from getting it was the money. I was in a quandary about what else to do to manifest my car.
I did all the things: I got specific. I got into the feeling of having and driving the car – a lot. I had visual reminders on my vision board and on my phone. I went to dealers and talked price and negotiated.

So what else could I do?

Well, this is it. The idea popped into my head about how great it would be to write a blog post about how I manifested my new car – after I had manifested it. But then I thought: What about writing the post NOW, as if I already had manifested it? (This is actually called scripting and is a Law of Attraction manifestation technique.)
So I spoke my car into existence by writing about how I manifested it.
I knew it was possible. I knew that with Spirit, anything was possible. And I knew that the pathway to my getting my beautiful dream car was right in front of me. I set my very clear intention that I was manifesting my dream car!
I really don't believe any of these things were a coincidence. As sad as I am about what was done to my old car, the fact is that I LOVED that car so much, I don't think I ever would have traded it in. I was going to drive that car until it was on its last legs. Maybe it was a blessing that it happened the way it did – when I was just a couple of blocks away from home – instead of when I was on the further away or on the freeway.
Then I shifted my perspective.

I realized that I needed to shift from anger and resentment and feeling victimized by the mechanics, to one of gratitude. I realized that that was what was blocking my manifestation. The anger. Duh. Like, I know this stuff, and yet I was still stuck in anger.
I looked at the things I could be grateful for in this situation:
This happened at the end of the year, when car prices are at their lowest.
This happened when I was close to home, so I was able to get home with my car and have it towed to a mechanic.
As much as I loved my car, it was 23 years old, and it was just a matter of time until something major happened with it. (And then I wouldn't have had an insurance claim, which gave me some money towards my new car.)
I knew the exact car I wanted, so I didn't have to do a lot of looking around or test driving.
The new car (in addition to being really beautiful) has a lot of safety features that I really appreciate.
2020 is the last year that the Camry has the embedded monitor on the dashboard, which I prefer to the new, raised one.
Because of the age of my car, I was always very conscious of how far I was driving and often chose not to go somewhere if it was a long distance.
I really do feel like I subconsciously created this situation to help me manifest my new car.
I'm grateful that I know about the Law of Attraction, so I can take the actions to manifest my dream car.
And I also showed gratitude for having received my dream car from the Universe.

Dear Universe/Spirit/God/All There Is/the All and the Everything,
Thank you so much for my beautiful new Toyota Camry SE in Galactic Aqua with a moonroof. It is my dream car! I am so grateful you guided me to just the right way for my car to come to me.
Thank you, thank you, thank you!
Love,
Deena

I kept my vibe high

Every morning and night, I listened to my 50 Inspirational Affirmations audio, to raise my vibration and align my energy with my manifestation.
And I had fun with this. I bought a blingy Toyota keychain, which I put the rental key fob on. So every time I drove the rental car, I saw my crystal encrusted Toyota keychain. 🙂
It took me 2 months, but I did it. This was a big accomplishment for me.

So there you have it. Those are the exact steps I took to manifest my new dream car! (Photo below!)
P. S. A sign from the angels

This really blew me away. When I left the dealership, it was after 8 pm and raining outside. I drove straight home, except for a brief stop at the grocery store to pick up some Kombucha.
I pulled the car into the garage and went inside the house. When I turned around to close the door, I saw a white feather on the front grille of the car.
I couldn't imagine where it had come from or how it got there. With the rain coming down and it being so late at night, I hadn't seen any birds. Not to mention that the birds we usually see here don't have white feathers, with the exception of seagulls.
Getting this car was truly a miracle in manifestation for me. And I believe this feather was a sign from the angels and souls in Spirit who helped me manifest this car in my life. I am so grateful for the help I've received that there are no words sufficient enough to express my gratitude. 💖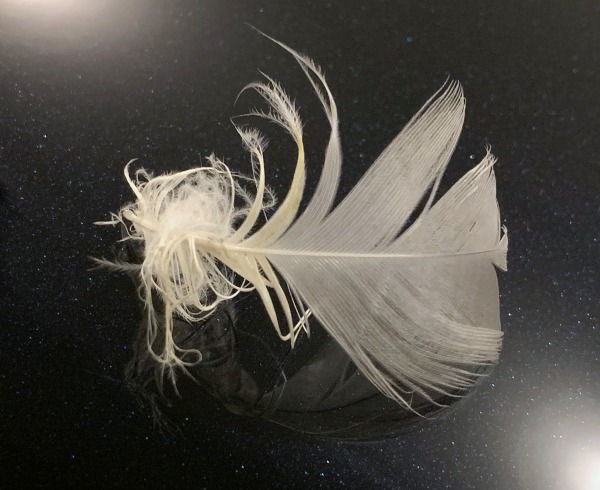 This post contains Amazon affiliate links. Most of these are products that I have, use and love. A few are products I don't have, but highly recommend. We are a participant in the Amazon Services LLC Associates Program, an affiliate advertising program designed to provide a means for us to earn fees by linking to Amazon.com and affiliated sites.